Are you looking for an Emcee for your tech event in Singapore?
Look no further than Emcee Lester Leo! Lester is highly experienced and has hosted for some of the biggest technology (IT) companies from around the world. He is passionate about tech and can relate to "tech talk".
On top of that, Lester is also very passionate about tech startups, having founded three tech startup companies. One of his companies received the SPRING Singapore YES! Startup of $50,000. You can read more here about his first and second startup.
Lester was also part of the 2022 founder program (exploring web3.0 businesses) of Antler, a global early-stage venture capital firm that invests in the defining technology companies of tomorrow.
Having hosted an extensive scope of tech and information technology (IT) related events from tech conferences, tech exhibitions, tech product launch, to startup competitions, Emcee Lester Leo is well versed with topics surrounding the tech realm. Be it topics on hyper converged infrastructure or network security, Emcee Lester's passion and over arching experience with tech related events promises to bring any of your tech event to the next level.
For Lenovo @ Macau
For HP @ Bangkok, Thailand
For Dell @ Bangkok, Thailand
For HP @ Kuala Lumpur, Malaysia
For Cisco
For Oracle
For Tableau (Salesforce)
For Zscaler
For Tech Data
For F5
For GovTech
For Thales Cloud Protection and Licensing
For Blockchain and Cryptocurrency Summit
For HTC
For Fuji Xerox
For Keysight
For National Supercomputing Centre Singapore & AMD
For Imperva
For Konica Minolta
For Semicon SE-Asia @ Kuala Lumpur & Penang, Malaysia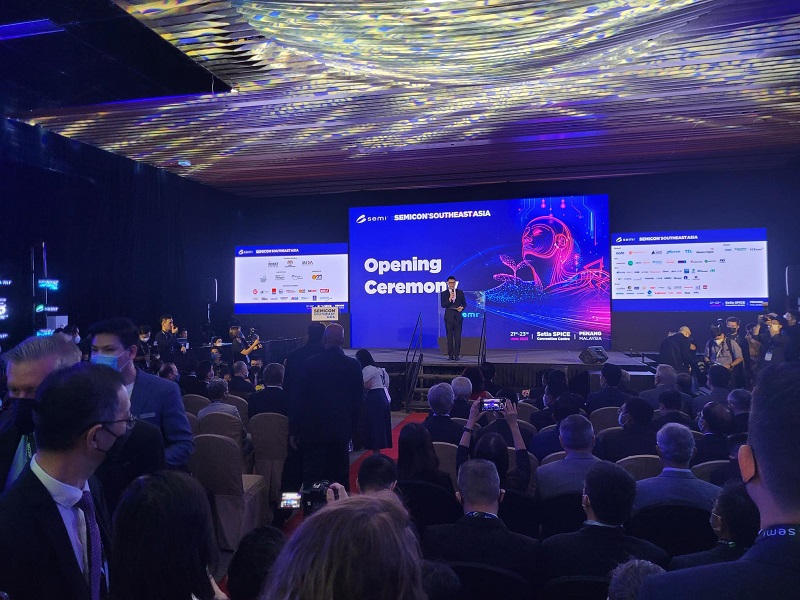 For Fujitsu
For Jabra
For NTT & VMware
For Cisco
For Dell
For HP
For Cyber Security Agency of Singapore (CSA)
For Singtel Enterprise Data and Managed Services (EDMS), NCS, OPTUS
For BFSI Innovation & Technology Summit
For CTC Global
For OutSystems
For ASUS
For Gigamon
For NCS Telco+ at ATxSummit
For NCS
For SG Innovate
For CloudMile
For NTUitive (Nanyang Technological University Innovation & Enterprise Company)
For Smart Nation & Digital Government Office (SNDGO)
For IT Show Main Stage featuring multiple technology brands
For Infocomm Media Development Authority (IMDA) Silver IT Festival
For WMP (E-Huge Technology)
For IMDA Digital Inclusion Festival
---
Here are some technology and IT events that Lester has hosted before:
NTUitive Technology Roadshow (NTU Innovation and Enterprise Company)
Zscaler Zenith Live APJ
Thales Data Security Day Roadshow
OutSystems Low Code C-suite Roundtable Dinner
CTC Global Tech Sales Kick-off
Dell Partner Awards
NCS Next Hack
Gigamon Lunar New Year Partner Event
Imperva CNY Partner Event
Govtech Data Science Connect 24th Edition x Data Arcade Tournament
Veeam M365 Live Studio Recording for onboarding users
Tableau (Salesforce) Public Sector Day
Imperva Singapore 2H Partner Connect
Cloudmile Data Lab Conference
National Supercomputing Centre Singapore (NSCC) x AMD Aspire 2A Supercomputer soft launch and roadshow
Oracle FY23 ASEAN Partner Kickoff
Stack X Data Science Connect by Govtech
NCS Telco+ & AIS (Thailand) MOU Signing at ATxSummit (Asia Tech x Singapore)
Banking, Financial Services and Insurance (BFSI) Innovation and Technology Summit South-East Asia
Digital for Life Festival
ukiss.io Hugware (Cryptocurrency hardware wallet) Pre-launch
NTT & VMware – Synergy Driving Success Kick Off
CSA (Cyber Security Agency of Singapore) launch of cyber trusts and cyber essentials marks
Dell Technologies Partner Awards
Gigamon Partner Event
Jabra APAC Virtual Sales & Marketing Kick off
Cisco APJC Designed SMB Partner Digital Conference 3.0 virtual Awards Ceremony and Celebration
CloudMile Grand Opening
SG Innovate New Frontier – Deep Tech
Data Science Connect x Data Arcade Tournament by GovTech
Tech Data Solutions Day
Skillsfuture x Smart Nation Technology showcase
Keysight World
IMDA Digital Inclusion Festival
Lenovo Top Gun @ Macau, China
Cisco Connect – Solutions Expo
Crimson Logic Dinner Event
F5 Anticipate Seminar
FTD Solutions ARM Embedded Seminar
Singpost Group Technology Team Engagement & Facilitation Workshop
Titansoft Staff Night
Millionaire Asia Blockchain & Cryptocurrency Summit
Semiconductor Technologies Dinner Appreciation Event
Dell EMC Elite Circle Dinner
Lenovo DataCenter Group Channel Kick Off
IMDA ePayment Learning Journey
Hitachi High Tech Dinner Event
ASUS Dealers' Night
Netrust Gala Dinner
Pioneer 25th Silver Jubilee
Keysight Measurement Forum
HP Print Renaissance @ Bangkok, Thailand
Konica Minolta Colour Rulez Seminar
SMU Master of IT in Business Gala Dinner
Newstead Solutions Day with Huawei
Fuji Xerox Docuworld Conference
F5 Anticipate Technology Conference
HP Proliant Mid-year Blitz
ASUS Zenfone Zoom S Launch Event
Smart Nation Breakfast for Merdeka Generation
Tech Startup Pitching Competition
HTC Ultra & U-Play Product Launch
HP APJ IMPS (indirect Managed Print Service) & Print Renaissance @ Kuala Lumpur, Malaysia
IMDA Digital TV & Silver IT Festival
ASUS 3 Series Zenvolution Product Launch
HP Accelerating Tomorrow Workshop
Dell Tech Summit @ Bangkok, Thailand
ASUS Zenfone 3 Media Launch
Tourism Technology Asia Conference
KLA-Tencor Anniversary Event
HP Proliant Blitz Awards Ceremony
Future Electronics Appreciation Event
ASUS Zenfone Zoom Launch Event
ASUS Zensation Launch
HP Proliant Oktoberfest
ASUS Zenfone Selfie Media Launch
IDA Smart Nation Showcase
IDA Young Tech Fest
Singtel EDMS Kick Off
Semicon South-East Asia
HP Protect Seminar
IT Show Main Stage
IDA Digital Seminar
HP Enterprise Group Channel Partner Kick Off
HP Supplies Leadership Summit @ Hanoi, Vietnam
HP EG Kick Off @ Malacca, Malaysia
NETS Appreciation Event
Hardware Zone 15th Anniversary
HP Enterprise Group Red Dot Challenge
HP First Steps Awards Ceremony
NCS Training Day
e27 & TechinAsia Tech Startup Founders' Drinks
SMU Technology Startup Competition
HP First Steps Partner Program Launch
Toshiba Consumer Event
SITEX Consumer Trade Show
IBM Event
Disco Hi-Tec Event
EDN Asia Embedded Systems Seminar
Look for Emcee Lester to be your technology conference emcee today!
---
To engage Emcee Lester for your tech event in Singapore, inform your preferred events company, or you can contact him below.
Phone: (65) 8163 2525
Email: lester@emceelester.com